ADJUSTED 2015 PRICES for WERNER DREWES Woodcuts, collages, and oils!!!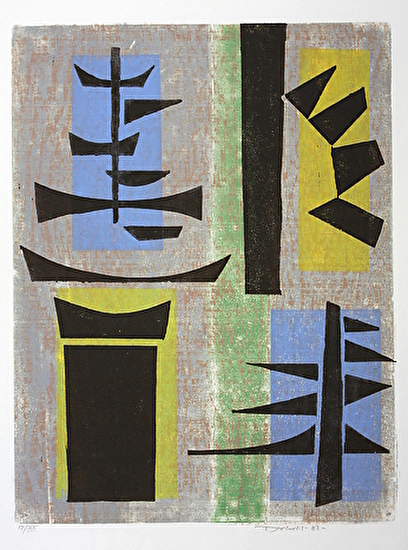 Pairing Off by Werner Drewes (1983), woodcut on paper
$1600 unframed; $1800 framed
We have had an exciting year with shows for Werner Drewes in many parts of the United States.
Bauhaus student (at Weimer and Dessau), founding member of the American Abstract Artists, WPA art Supervisor, professor with Columbia U., Chicago Institute of Design, and Washington U, artwork in major museums throughout the world,
including the Smithsonian American Art Museum, where he had a solo show--
Werner Drewes continues to inspire us, even after his death.
This is your chance to collect his original work directly from the family collection.
Interested in a lecture about this artist?--please contact the webmaster.
Curious if you have an original Drewes or its current value?--please contact the webmaster.
Looking for a special piece?--please contact the webmaster.
Individuals, Galleries, and Designers/Decorators welcomed.